It's a rare event that keeps PRYC Fleets off the water when there are bright clear skies ,fresh SE breezes and perfect sailing conditions. On this occasion, members from all Fleets gathered at the Southport Volunteer Marine Rescue facility for the 2021 PRYC award presentation and celebratory lunch. This years ceremony and food feast was prepared and served by Commodore Tent Jarratt, Vice Commodore Rex Scott and Committee Members Ross Capper and Barry Hill.

The bar was full, and so were our stomachs after enjoying the plentiful fresh fare and endless jumbo prawns, followed by dessert.

Then it was time for the serious business of acknowleging those members who found the better puffs of wind than the rest of us.....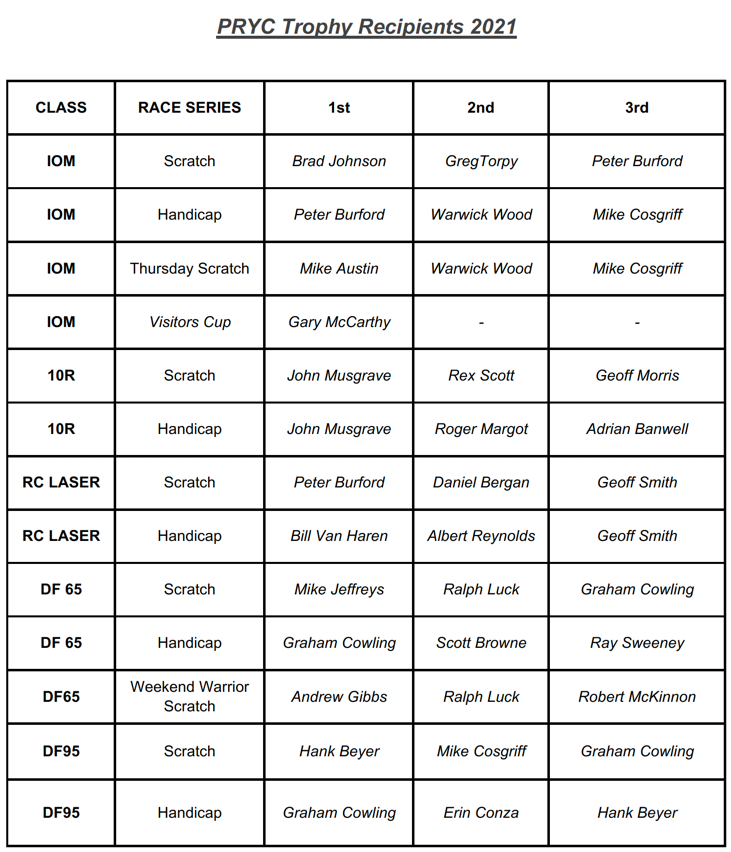 PRYC IOM Scratch Championship Cup Perpetual Trophy - Brad Johnson
PRYC Wags Laser Club Champion Perpetual Trophy - Peter Burford
RC Laser Handicap Championship Graham Fletcher Commemorative Award - Bill Van Haren
Dragon Force 65 Perpetual Trophy - Mike Jeffrey
Capper 10R Handicap Series Perpetual Trophy - John Musgrave
PRYC Distinguished Service Award - Bill Clancy
PRYC Long Standing Honoured Member Award - Richard Bray

Fleet Appreciation & Encouragement Gift Presentation Winners
IOM Fleet: Bill Croston, Mike Cosgriff, Peter Burford
10R Fleet: Mark Perkin, John Warner, Fred Bestell
RC Laser Fleet: Byron Humphries, Tony Keegan, Gary Boulton
DF65 Fleet: Ted Mulligan, Ray Sweeney, John Daley
DF95 Fleet: Kevin Harris, Chris Palmer, Peter Rambaud